A week ago the kids & I (and my mom, "Mimi") returned from a 4-night adventure to St. John, New Brunswick, Canada aboard the DIsney Magic. This marked Elodie & my 3rd voyage on the Magic and Bennett's first. Our last 2 sailings were long trips throughout Europe, so going into this trip I really didn't think much of it. I really hadn't put much consideration into the trip or gotten very excited. With the cruise being so short, it seemed like it would be a fairly normal weekend - just aboard a ship. Boy was I wrong.
This. Trip. Was. Amazing!
Laying out the day-by-day, play-by-play of our trip below. Want the Readers Digest? Disney Cruise Line (DCL) is amazing. The Magic is such a charming, wonderful ship to sail on. It doesn't even matter what itinerary you choose. Do it. And bring us with you.
If there's a way to kick-off an amazing cruise, its sailing out of NYC. We've sailed out of Dover (UK), Copenhagen and Baltimore in the past but there is nothing like sailing down the glistening Hudson river, watching the skyline slowly roll by as you approach the Statue of Liberty and then swiftly breeze under the Verazzano Bridge. The city that never sleeps seems oddly quiet and peaceful as you watch it fade into the Horizon. The buildings sparkle in a way you don't ever get a chance to see or enjoy while you're in it or passing by in a car. It's magical.
We boarded the DCL Magic at around 1:30PM giving us 2 1/2 hours to have lunch and enjoy "Open House" for all the ship's special areas that are restricted to adults / kids or appointment once the ship sets sail — The bars, Spa, fitness center, kids clubs, etc. Main focus of this trip's Open House was the Kids Club areas for 3-12 year olds - the Oceaneer Club & Lab. Since this was the first time Elodie was old enough to play & stay here, I wanted to make sure I had time to walk through the space with her, show her where the bathrooms were and make sure she was comfortable and excited. While the counselors are incredible and of course will help kids when they need it, they aren't necessarily watching the super little ones to make sure they remember to use the bathroom or remind them where it is. It was a little nerve wracking thinking about her independently moving through such a huge kids club with so many (older) kids around. Spoiler alert, she was totally fine. But we did spend a solid hour in here letting her run, play and meet the counselors.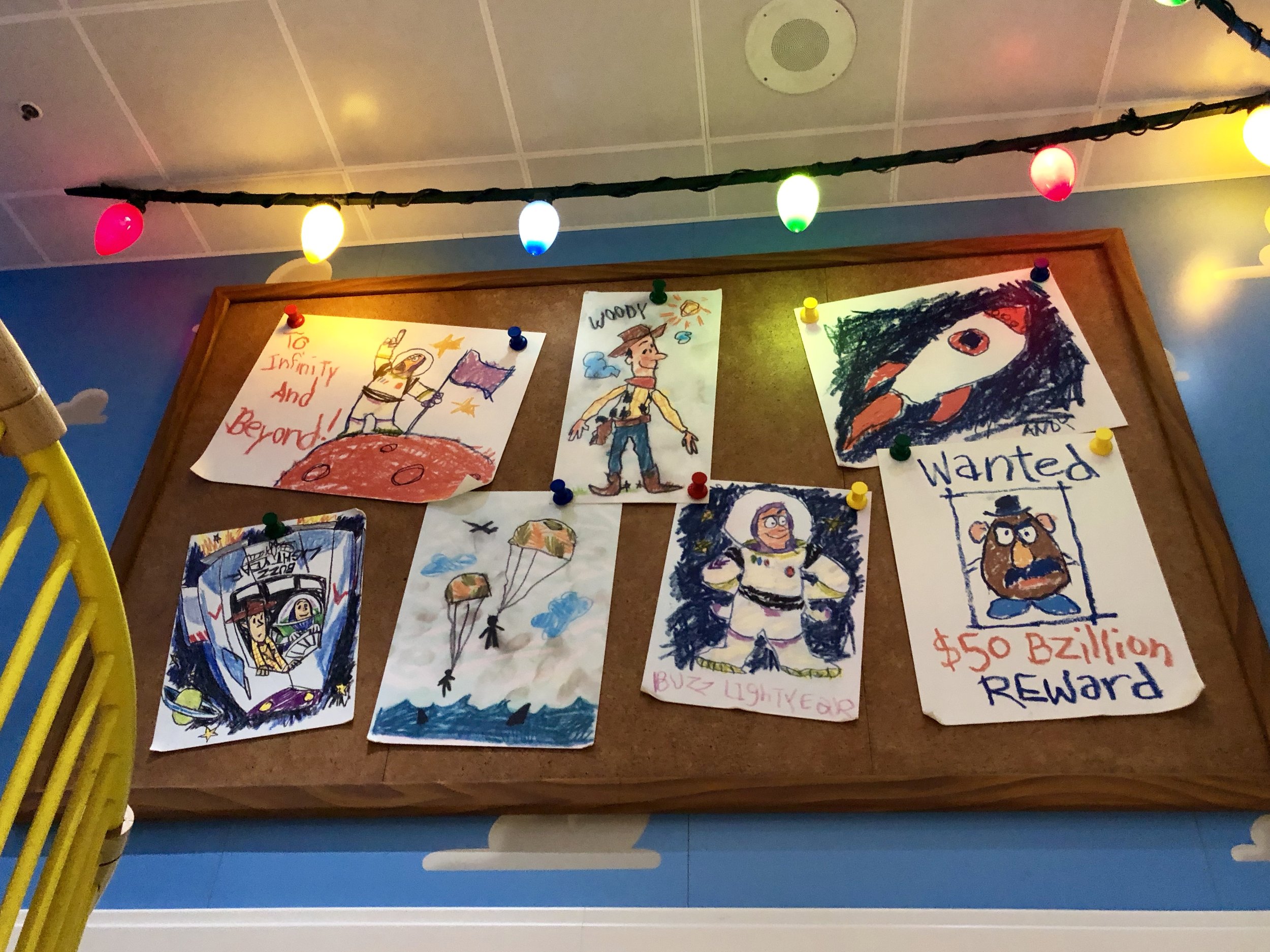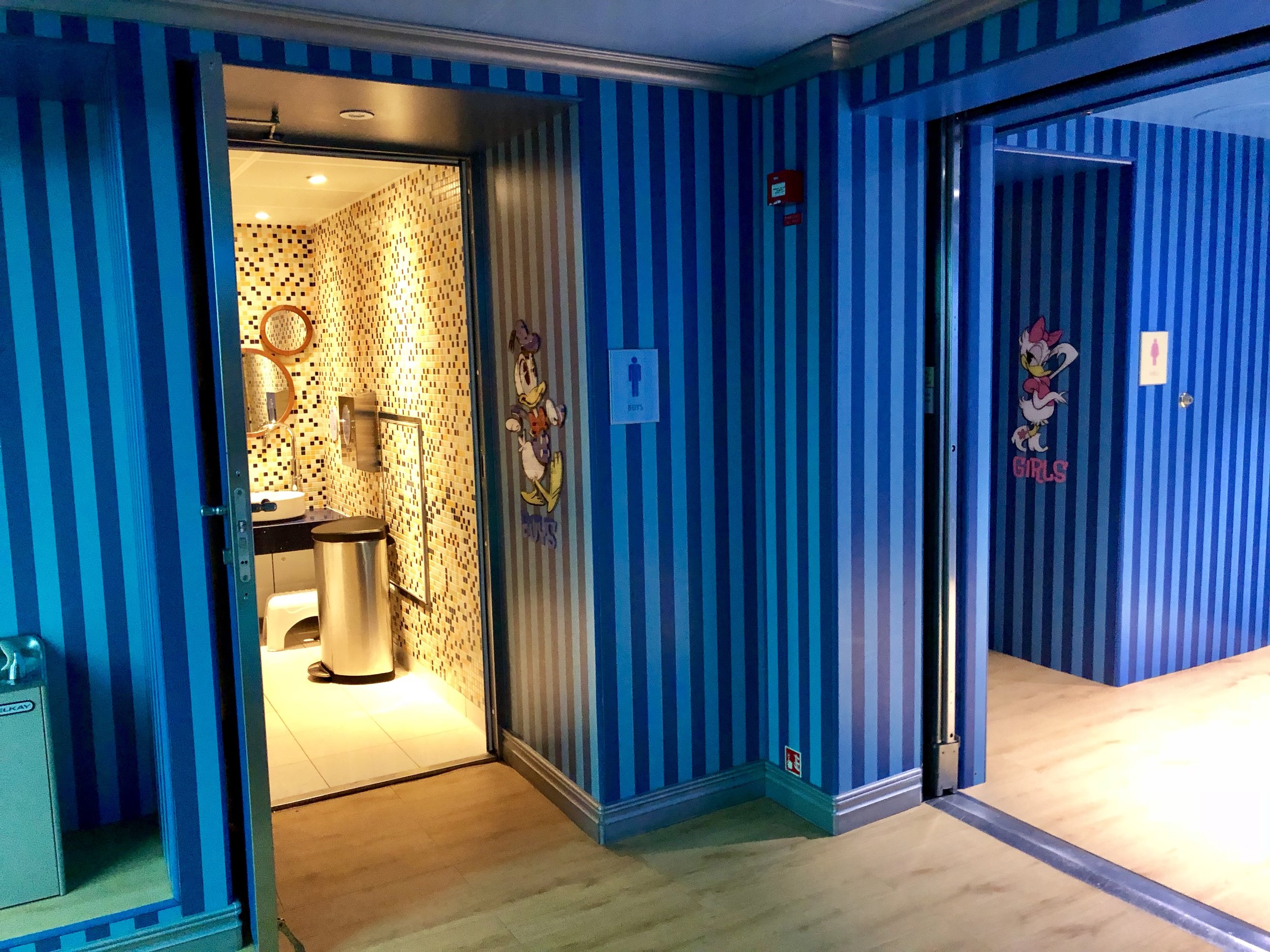 Last all-aboard for DCL is 4pm, following which there is a mandatory safety drill for all crew & passengers. Shortly after, the ship set sail kicking off the cruise with a Sail Away Party on the top deck, complete with Characters and lots of dancing. On any other cruise from any other port I'd recommend making this top priority and securing a great spot to enjoy the fun. Leaving out of NYC, we popped into this quickly and let the kids see the characters but then quickly made a bee-line to the top deck, Aft to enjoy the views of the city and Statue of Liberty.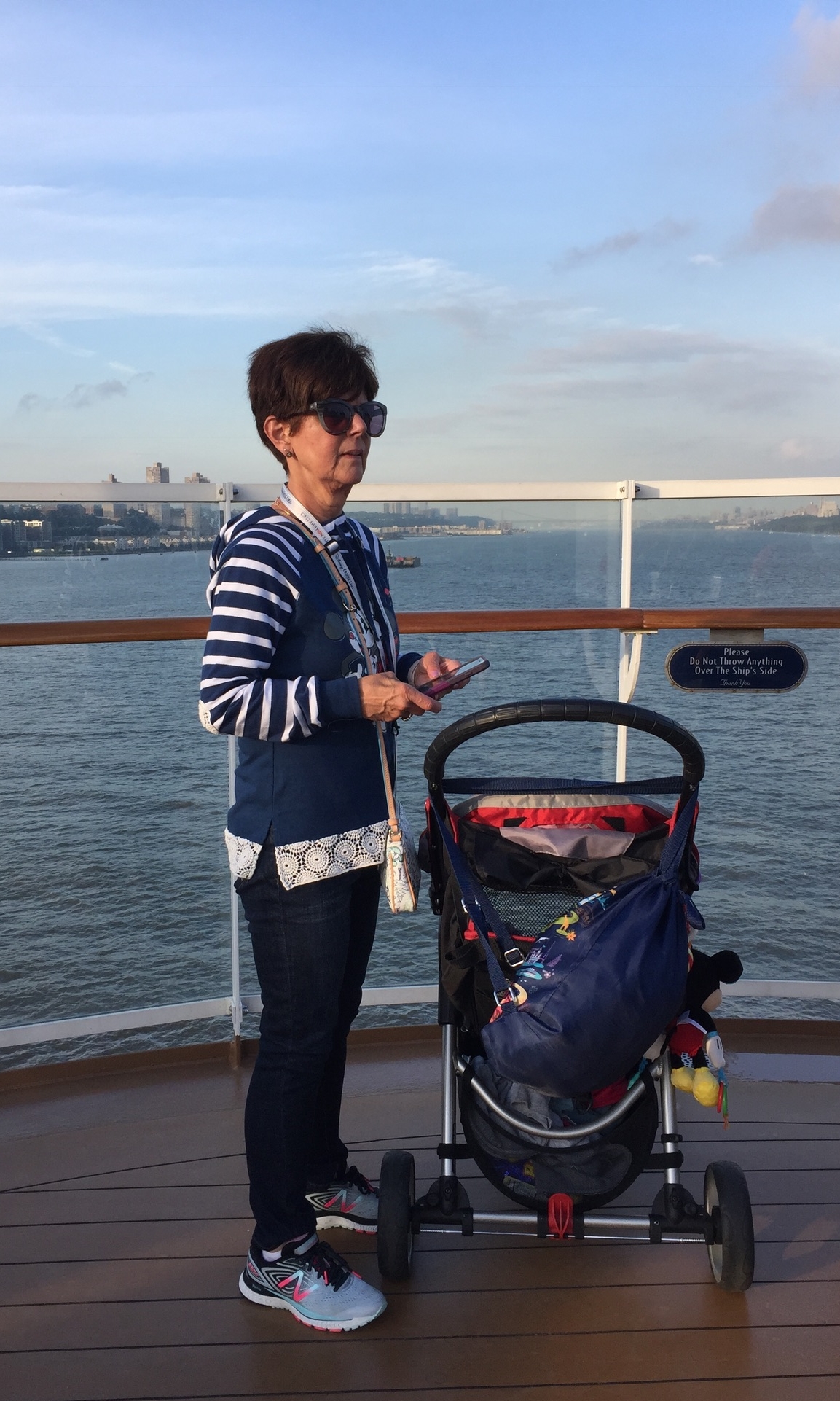 We enjoyed the rest of our first evening browsing in the shops, letting the kids explore the ship and dining in Rapunzel's Royal Table (RRT). For any past DCL Magic cruisers, RRT replaced Cariocas in the ship's dry-dock refurb in 2017. It really wouldn't have taken much to improve on Cariocas. But RRT is a dramatic and refreshing change from the old, tired & boring Cariocas. Beautiful 'floating lantern' ambiance, live music, great menu, interactive moments for the kids and appearances by Rapunzel, Flynn & a gang of Thugs make this new dining experience one to rival (if not top) Animator's Palate.
After dinner, the kids volunteered for more time in the Kids clubs and we gladly obliged, leaving them to toast a celebratory glass of Vino from the quiet & cozy O'Gill's Pub. Then it was eventually off to enjoy being rocked to sleep by the motion of the ship.
SEA DAY EN ROUTE TO CANADA
I'm one of those people who loves cruising so much I really don't care what the destination is. If you're like me, you'll agree the Sea Days can easily rank as some of the best days of the whole trip. With nowhere to be and no pressure to rush to see something, you really can lean back, relax and do as little or as much as you want. I'm thankful the kids quickly fell in love with the counselors and play areas in the kids club and Small World Nursery, making it easy (and guiltless) to drop them off and enjoy some time roaming and relaxing around the ship. We browsed the shops, enjoyed specialty coffees in the Cove Cafe and then parked ourselves on deck-chairs outside, put our feet up and browsed the 2019/2020 future cruise options.
In the afternoon, we let the kids run-off energy (and ice-cream induced sugar-rushes) in the adorable Donald Duck themed Aqualab Splash Pad. This little area is reserved for little-ones not yet big-enough to enjoy the more intense splash pad. It's also the only area for babies who are not yet potty trained as they aren't allowed in the Pools or the larger splash-pad which runs off into it. One great thing about this area of the pool deck is that its enclosed. Not only does it make it easier to contain kids, it makes it much warmer than the rest of the pool deck. A nice bonus when you are sailing Northern European or Fall weather cruises and the reptile-blooded kids want to swing, regardless of weather.
We closed out this day enjoying the traditional DCL Pirate Night including dinner at Lumiere's. I have to admit, I failed on preparation for this standard evening aboard any DIsney Cruise. I was so hyper-focused on Halloween costumes I completely forgot this was not only a thing but a pretty big deal - especially for repeat cruisers who know the drill. It's not mandatory to bust out (or go buy) all the pirate attire you've ever desired to done. But you can't really go overboard with this night. If you're a person who loves a good excuse to dress-up and/or always wanted to spend a judgement-free evening dressed like a true swashbuckler, this is your place. My mom managed to piece together items she'd already packed into an impressive ensemble. I'm setting a reminder so we don't drop the ball on this for the Summer 2019 cruise.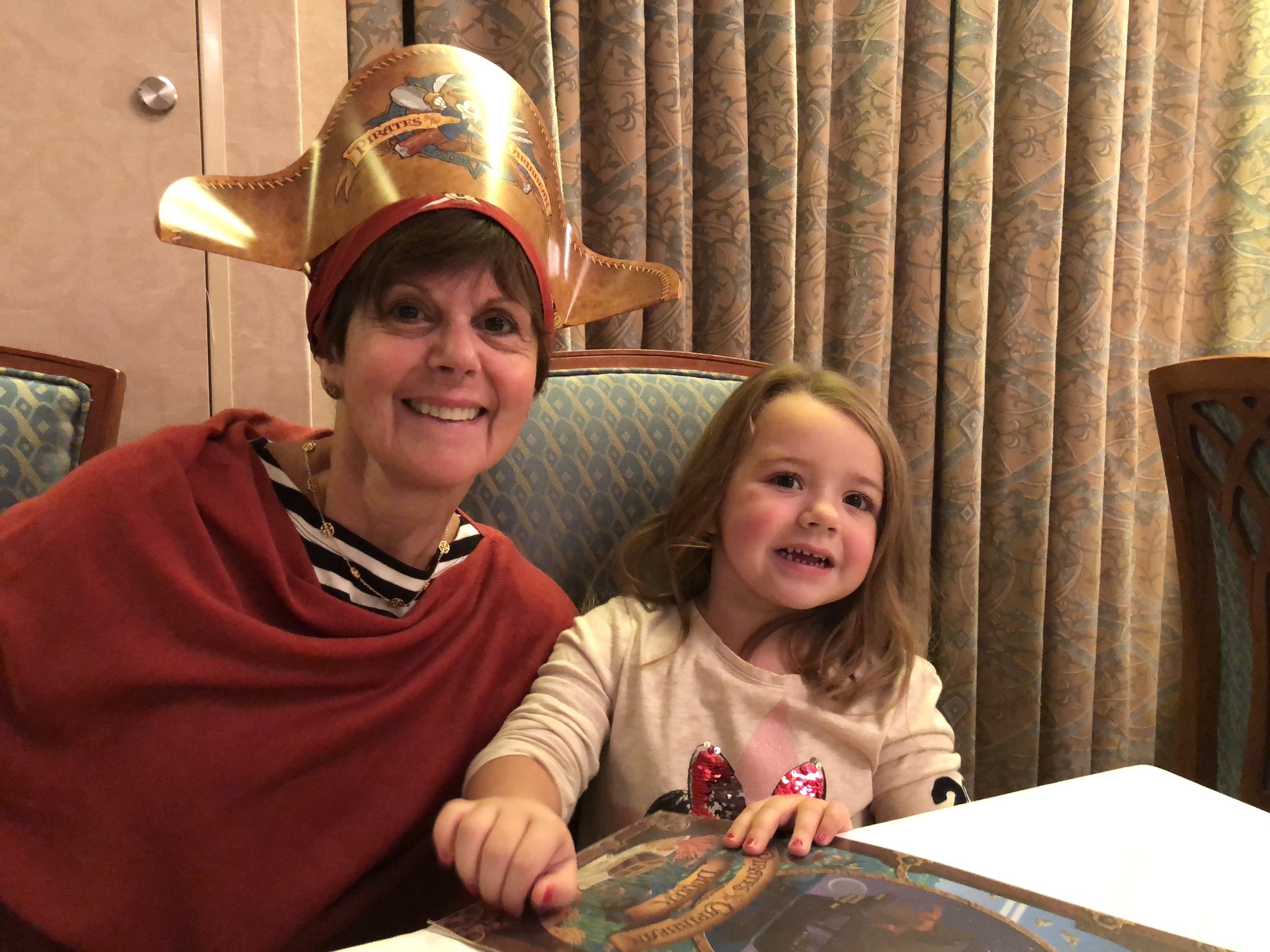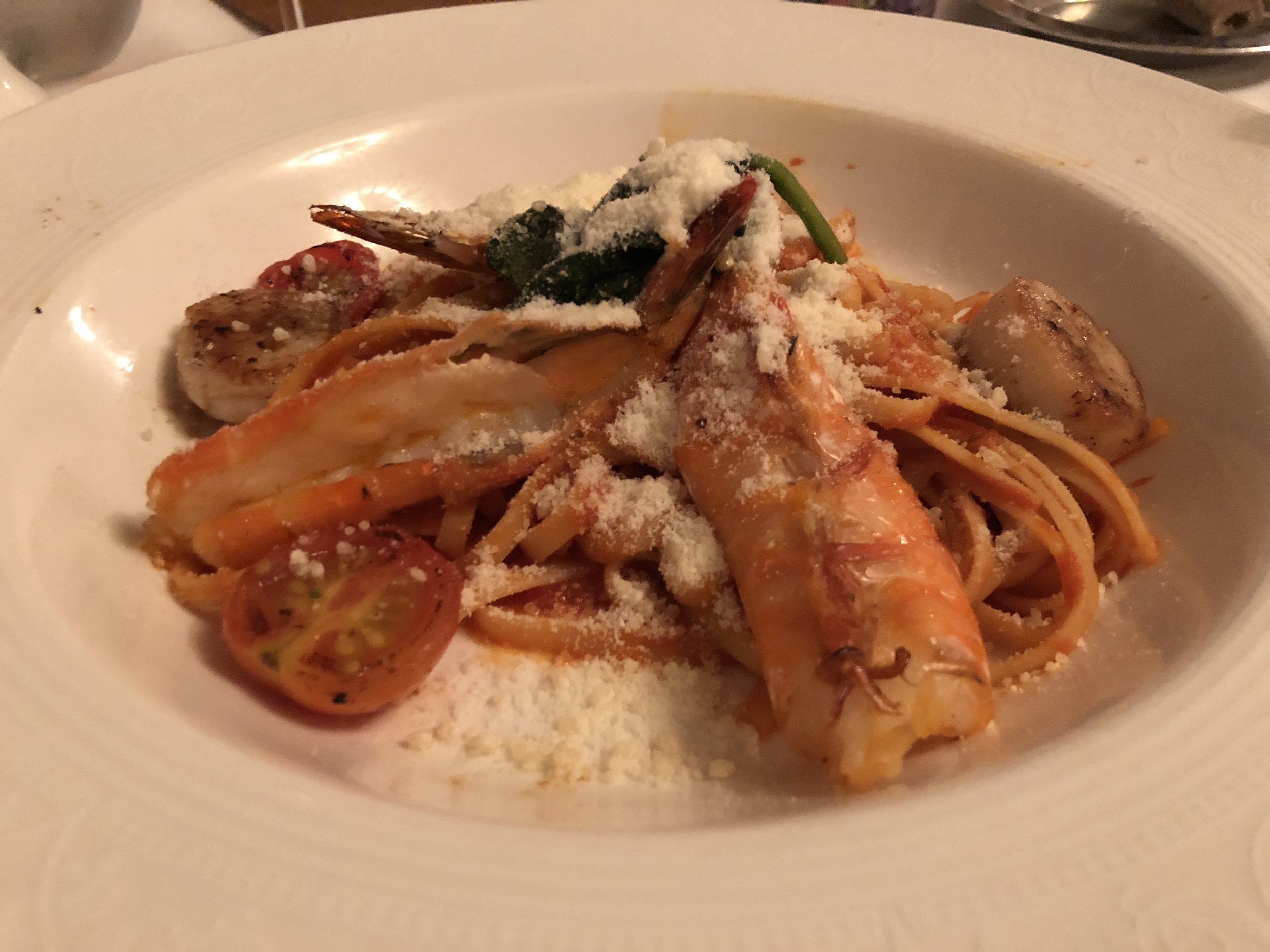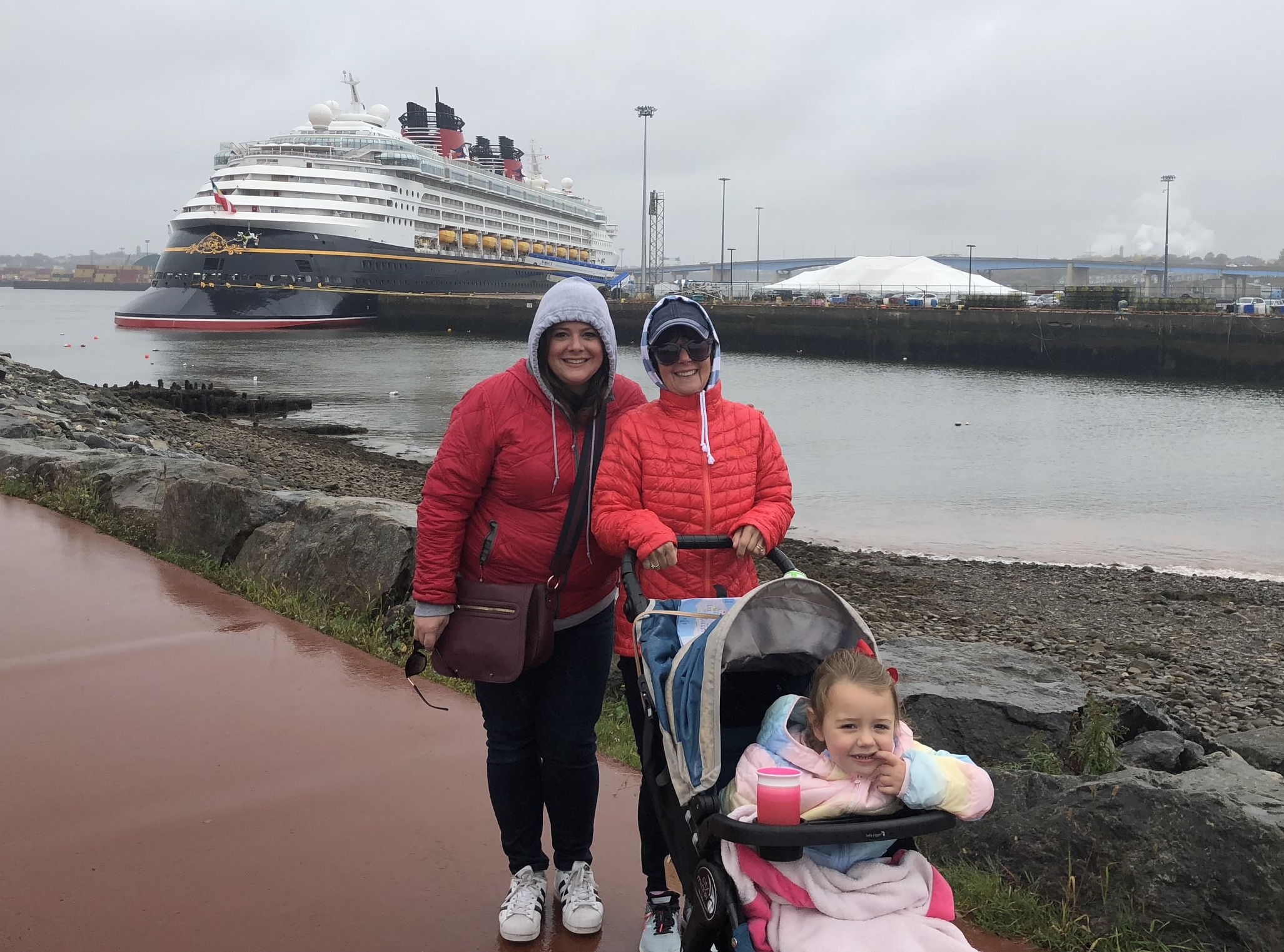 St. John, New Brunswick, Canada
Day 3 brought us to St. John; our only port day for this cruise. In general, we really do try and take advantage of Port Days, particularly when a ship brings us to a more remote place we may not easily get back to in a land-based vacation. As amazing as the kids' clubs are, unless there's some sort of adventure that would be difficult with super kids (i.e. touring caves & meeting monkeys at the top of the Rock of Gibraltar) we make best efforts to bring the kids ashore. Unfortunately, this day and St. John were not working in our favor. While there are some great excursions available (whale watching, tours further up into Nova Scotia) and really interesting things to see nearby (Bay of Fundy, Reversing waterfall) it was extremely cold, rainy and not a great day for exploring.
With the weather being so raw, we gave the little guy a pass and checked him in to spend a cozy day at the Small World Nursery. Not knowing how well my 3 year old would cope aboard the ship if she was ready to leave the kids club and I wasn't aboard to pick her up, I took her with us. I thought the experience might be nice, we could roam through shops and worst case scenario she could be bribed with local treats & an obligatory donut in Tim Hortons. I was wrong on all accounts. We gave it a valiant effort, ducking in and out of shops, buying my daughter's cooperation and trying to soak up the little town close to the ship. But in the end, cold winds and torrential rain forced us back onto the ship within a couple of hours.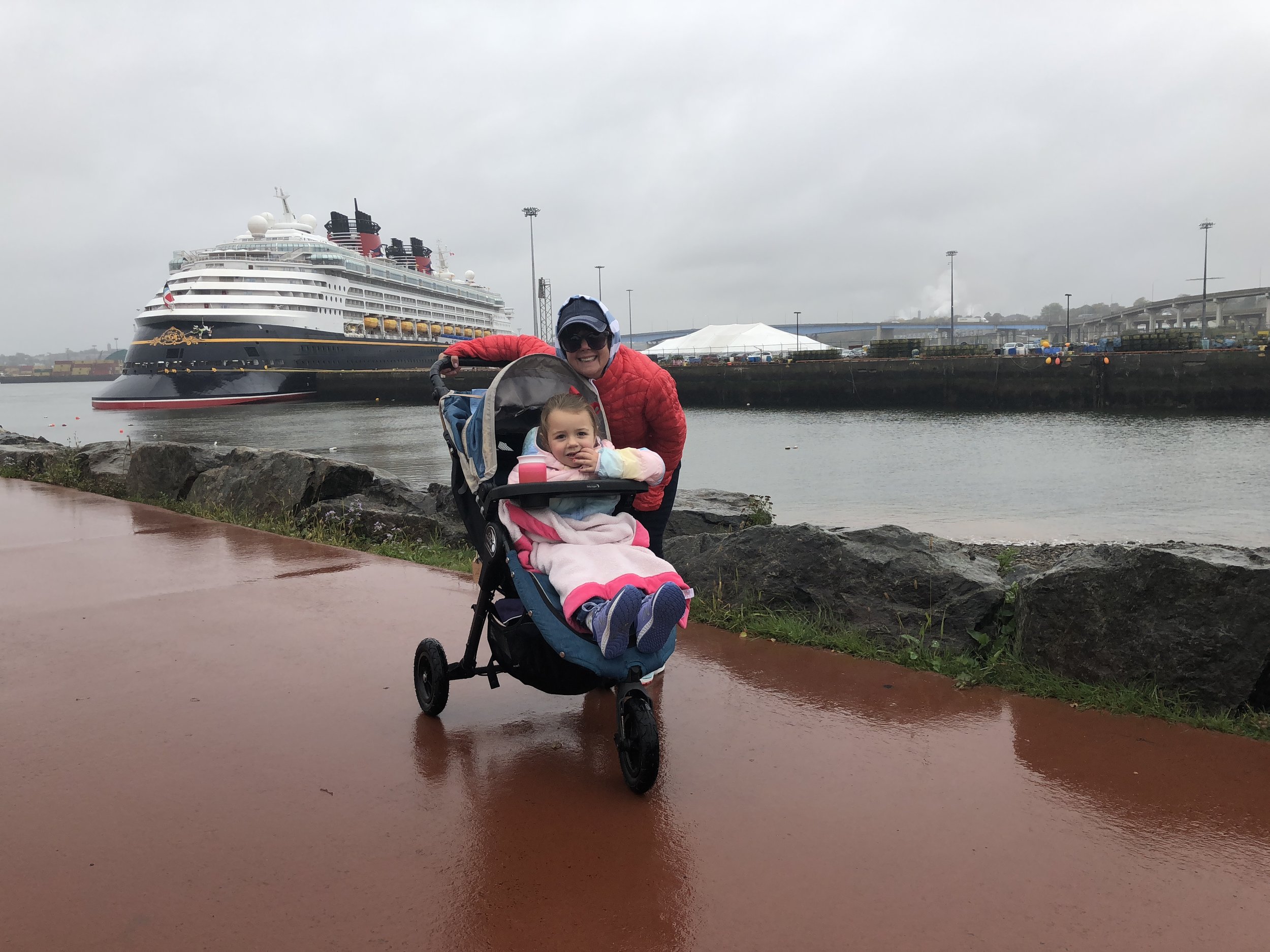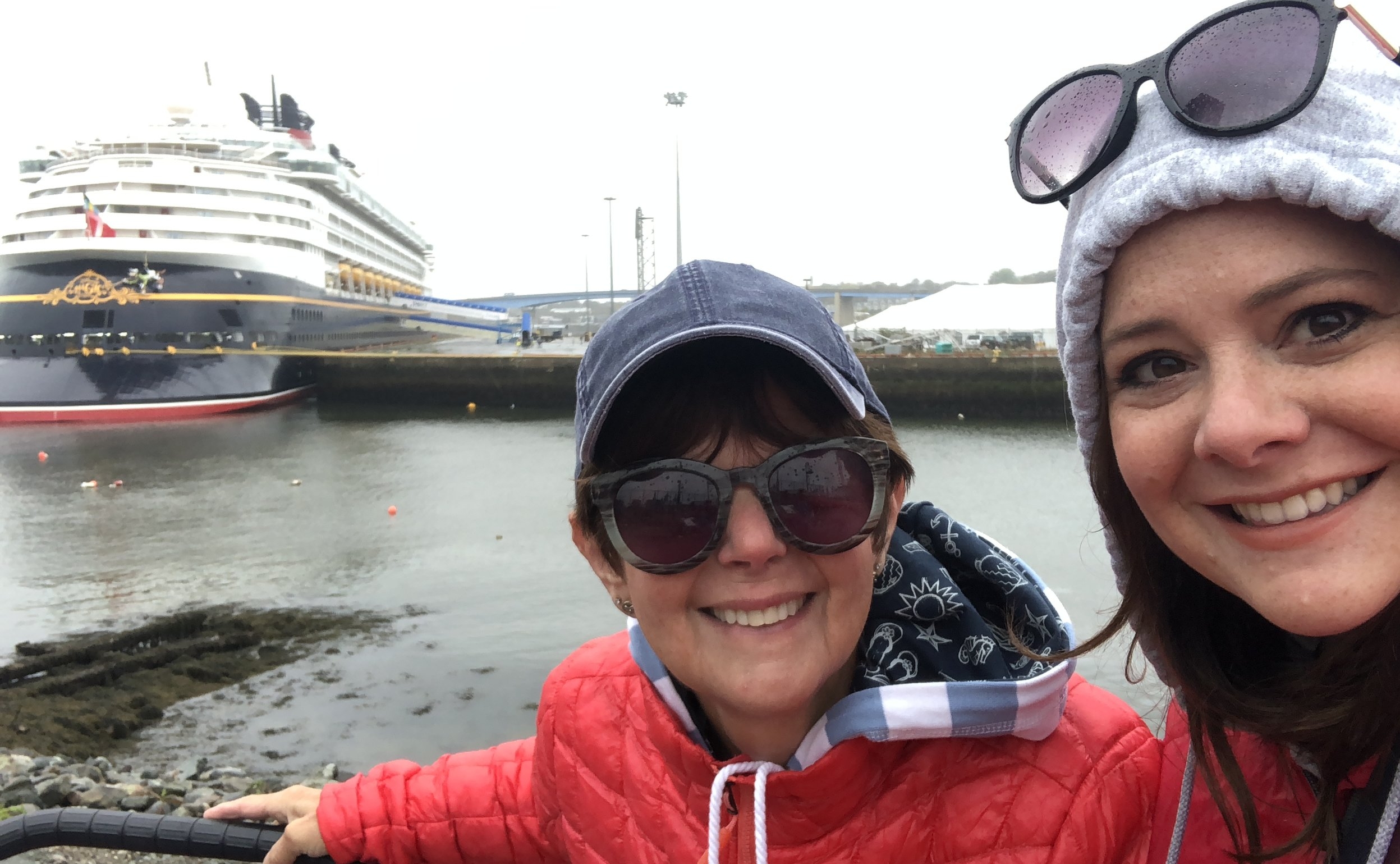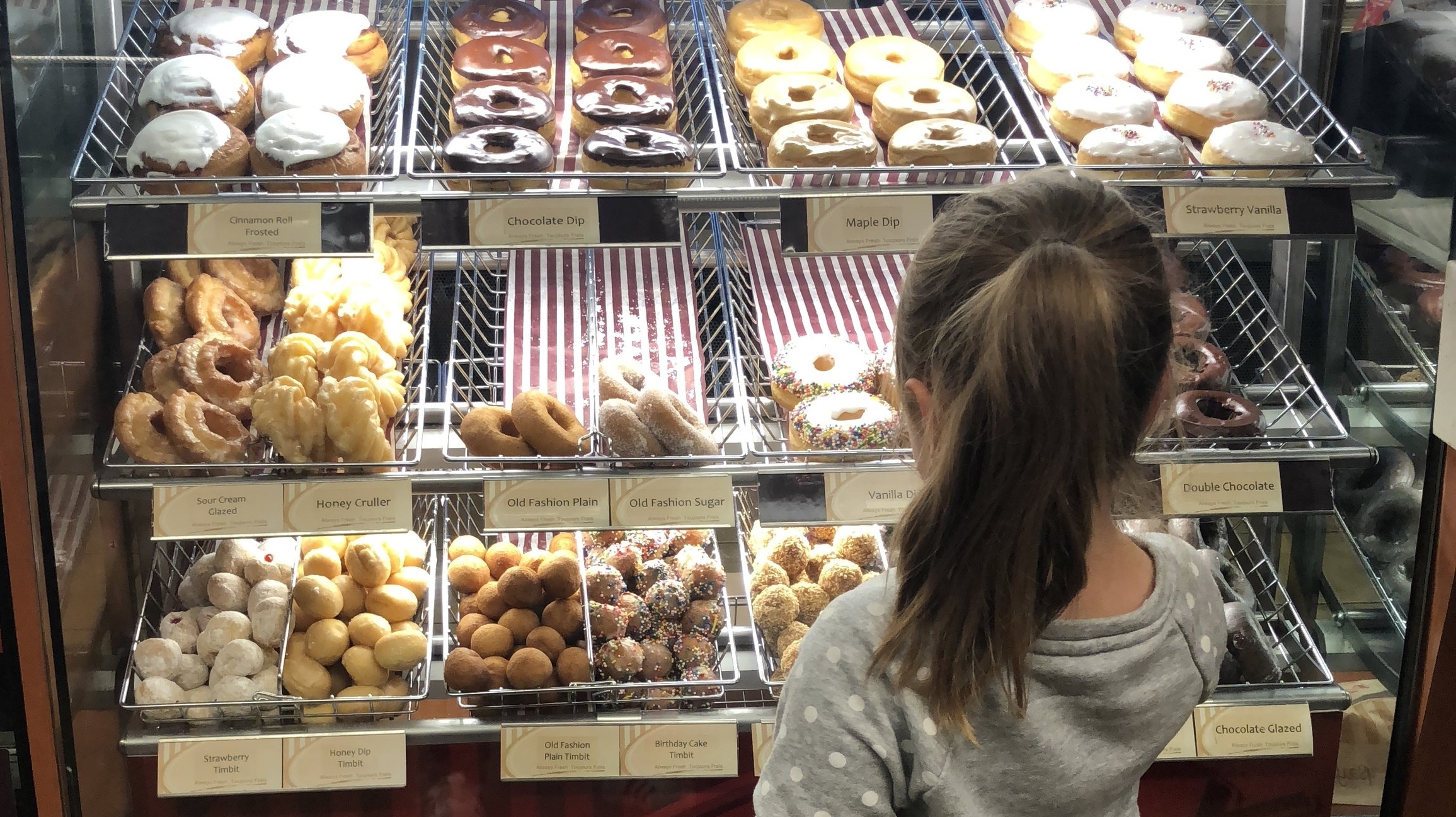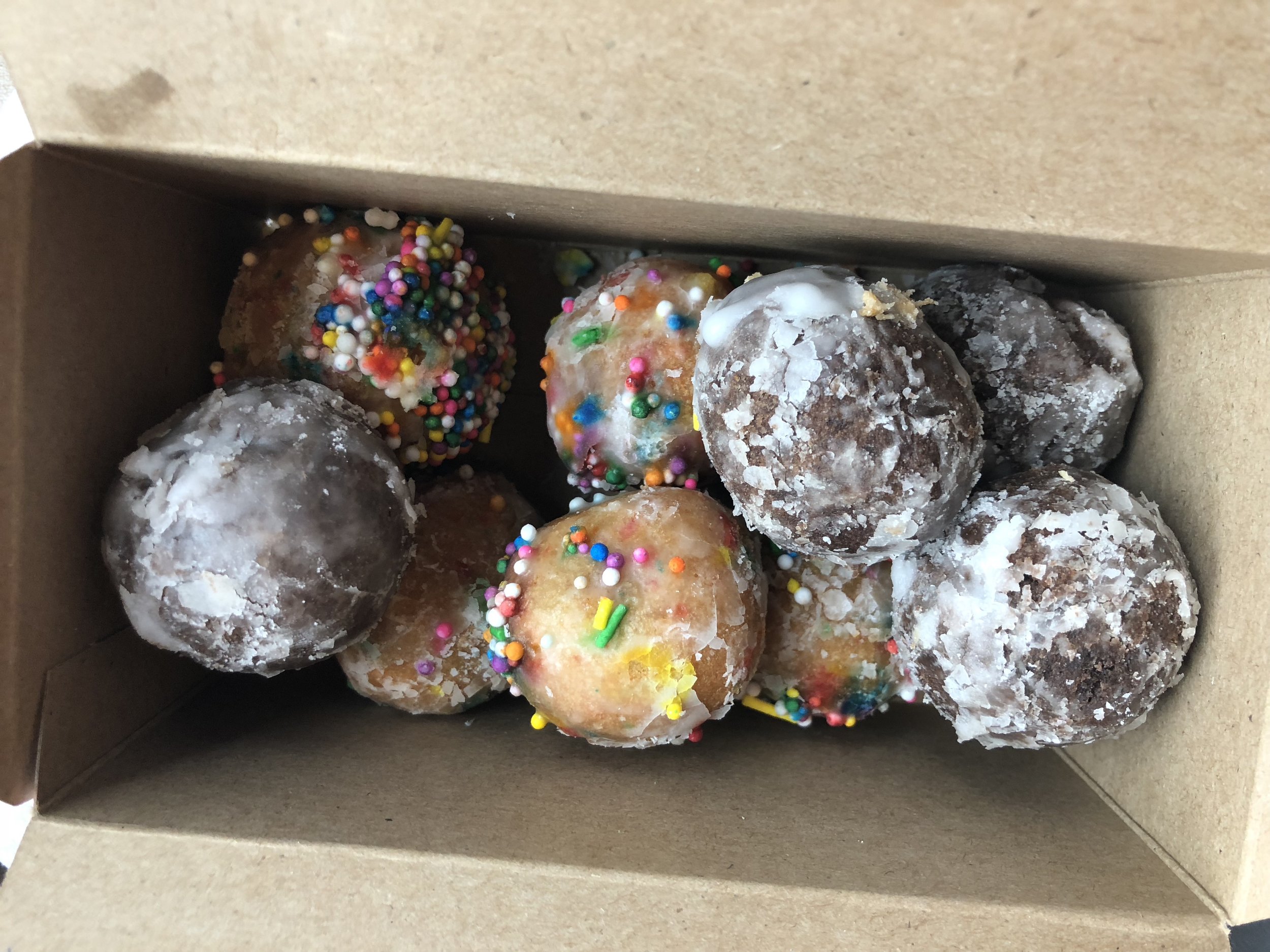 As much as we love exploring ports, I can't say we were overwhelmingly disappointed. If you need or choose to stay onboard, Port Days are great days on the ship as its generally empty and super quiet. We spent the rest of the rainy day, letting the kids enjoy the clubs, seeing a movie (Incredibles 2) and greeting characters. Dinner was at Animators Palate, where Elodie enjoyed watching the restaurant change from Black & White to color and the finale appearance by Mickey.
After some evening time in the kids' clubs and adult bars, we ended the evening together in the Promenade lounge. Tucked away behind this lounge/bar area is a small space where the littlest travelers can safely play and climb on big foam blocks & shapes. It's a space we've spent a lot of time in on past cruises and was a perfect spot to let them run off late night energy before heading back to the cabin. Added bonus that you can easily hear the live music from the adjacent lounge. This particular evening the lounge was shockingly empty, leaving the dance-floor open for my mom and kids to enjoy their own private dance party to their selection of tunes.
Halloween on the High Seas!
Our last full-day aboard the Magic was a day at sea en route back to NY. We enjoyed a lazy relaxing morning in preparation for the afternoon / evening's festivities - Halloween on the High Seas! Having seen pictures from other friends experiences, I knew we needed to bring our Halloween A-Game. I let Elodie lead the decision for the group costume which pre-cruise flipped between Wreck it Ralph and Muppet Babies enough times to make me crazy. I was thrilled when she finally landed on Tangled, sparing me from dressing as Miss Piggy and giving us the perfect foursome: Rapunzel, Pascal, Mother Golem and Flynn Ryder (thanks mom!)
The festivities did not disappoint! For Halloween lovers (like myself!) its so fun to have an extra day to dress up and celebrate! There were parties with the characters, special photo opps, trick-or-treating with obscene amounts of candy and 3-D singalong viewings of Nightmare Before Christmas. And we did it all. The kids pushed through a jam-packed afternoon and evening, in-costume the whole time. It was serendipitous our last dinner was scheduled for RRT which was the perfect backdrop for our ensemble. We finished up the evening letting the kids run in the open-house at the Kids Club, which we had all to ourselves again. All in all, absolutely perfect end to a wonderful trip.
The next morning we had an early breakfast at RRT, said goodbye to our favorite server (who we sailed with 2x prior) and head off the ship… thankfully with 2 more cruises aboard the Magic on the Horizon: Summer 2019 and Winter 2020! Let the countdown begin!
Have comments or questions about our trip, DCL or the Magic? I'd love to chat! Drop me a line!